Cindy Trask named new head of Upper School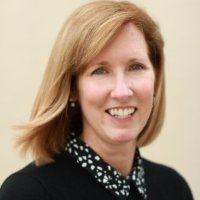 On Nov. 12, president Keith Evans announced the appointment of Cindy L. Trask as head of Upper School beginning July 1, 2016, to all Upper School students and parents via e-mail. Trask will replace interim head of Upper School Jim Justice, who will move on to a to-be-announced position in the administration. Trask comes to the Upper School from a dual position as pre-kindergarten through 12th grade director of studies and director of Middle School at Columbus School for Girls in Columbus, Ohio. She has served in these positions since 2013 and 2015, respectively.
A scientist by training, Trask began her teaching career as a biology and chemistry teacher and science department chair at St. Johnsbury Academy in Vermont from 1996 to 2006. From 2006 to 2008, she taught at the Collegiate School in Richmond, Virginia, while Evans served as its head of Upper School. From 2008 to 2013, she taught AP biology, honors biology, and chemistry and served as science department chair at St. Catherine's School, an all-female school also in Richmond, before accepting her current position at Columbus School for Girls.
The process of selecting Trask was extensive, spanning months and directly involving many members of the school community as well as an outside independent school search firm, Carney, Sandoe & Associates, led by Devereaux McClatchey, Westminster class of 1988. The search was led by an advisory committee formed by Evans that was composed of eight members of the faculty and administration: Tim Downes, Dave Drake, Ralph Geeza, Marjorie Mitchell, Judy Osborne, Thad Persons, Chanley Small, and Jere Wells.
The search team was expressly formed to be a microcosm of the diversity of the faculty.
"Keith Evans came to the Upper School faculty meeting toward the beginning of the school year, gave us a list of the faculty, and had us circle the names of the people we thought best represented the school," said Persons. "He then took that and looked for a diverse range [of people for the committee] in terms of age, race, gender, department, and time at Westminster."
While the search committee was being selected, McClatchey and his team worked at winnowing the field of candidates, interviewing the candidates they were most interested in via Skype. The candidates that remained, nine in total, were invited by the search committee to interview at the school during homecoming week.
"The search committee did not start until this fall, but the timeline for Upper School heads is really accelerated," said Persons. "There were 16 or 17 top-tier schools looking for Upper School heads, and there are only so many candidates. So the recommendation from the search firm we were using was to [work quickly]."
The search committee's three favorite contenders were then invited to return to campus to meet with more members of the school community. The final three candidates spent a day on campus interviewing with faculty, parents, trustees, senior administrators, and six members of student government: senior co-chairs Billy and Katie McGahan, senior girls class president Amanda Brothers, senior boys class president William Denning, junior girls class president Klara Lou, and junior boys class president Cyrus Faruque.
Student government appreciated their involvement in the selection process, citing it as one of the deciding factors of choosing Trask.
"It felt like our [student government] input was a big reason why the administration picked Mrs. Trask," said Brothers, "which was really nice because the head of Upper School has to be the liaison between students and the faculty and administration, so it's important that students like him or her."
Student government spent an hour-long lunch interviewing each of the three candidates, and tried to ask thoughtful questions designed to reveal the candidates' true motives for wanting the position.
"For the beginning of the lunch, we kind of all had a script, and then we came up with our own questions," said Brothers. "Every time, however, we made sure to ask four questions: 'What have you changed at your school? What kind of student do you find most difficult to relate to? What draws you to Westminster? How long do you plan on staying?' The Upper School has had so many different heads in the past 10 years and it's been kind of disruptive, so we really wanted someone who wouldn't just see Westminster as a stepping-stone for their career, but would stay at least a decade."
Everyone who met with the three candidates wrote reviews of them, which were then extensively analyzed and discussed by Evans and the search committee.
Using the advisory committee's feedback, Evans then selected the final two applicants, and he and the committee followed up with them before ultimately selecting Trask as the new head of Upper School soon after.
"We interviewed the three candidates about a week before Mrs. Trask was chosen," said Billy McGahan. "I feel like this was a very quick turnaround and that our opinions as students were very well-considered."
Those who met Trask stated that her interview immediately set her apart from the other candidates.
"She came across as a very dynamic individual when I first met her," said Drake. "She was at ease with all the questions the committee asked, and seemed very genuine."
Brothers believes that Trask positively compares to Justice, and will be able to successfully continue his legacy of "Music, Fun, Laughter."
"When I first met Mrs. Trask, I thought, 'She is a female version of Jim Justice,'" said Brothers. "I could tell right off the bat that she was open-minded and excited to be here. She's quirky, bubbly, and she has a similar sense of humor as him. They're both infatuated with students, and I can see the kid in both of them. She was definitely my favorite candidate."
Student government was also struck by the amount of preparation Trask did for her interview.
"Mrs. Trask immediately left an impression on me after introducing herself to Katie McGahan," said Faruque. "She knew all about Katie's accomplishments in lacrosse before ever meeting her. Before her arrival on campus, she caught up on Westminster culture and life by reading the Bi-Line."      Ultimately, Trask's interviewing skills made her the immediate front-runner with student government.
"After interviewing her, I ran into Mr. Evans's office and said, 'if you guys don't hire her, you're crazy,'" said Brothers. "And then I did the same thing in Mr. Justice's office. I was open-minded to the next candidate, but I just had such a feeling that she was the one."
While not the sole reason for her appointment, student government saw Trask's gender as a positive.
"We need more women in the administration," said Denning.
Other students expressed that Trask's new position could be a positive influence for female students.
"I think women typically are not considered for positions of power because of the stigma that women are weak," said senior Virginia Kuester. "When little girls do not see women in positions of power, they become discouraged because it looks like job opportunities are limited by their gender. Since we now have a woman for the head of Upper School, all the girls in the school will not be dissuaded from striving for whatever job they wish."
At St. Catherine's, Trask was committed to encouraging young women to break through gender barriers and pursue traditionally male-dominated opportunities.
"I was a part of a new independent project program within the science department and worked with her to optimize the program," said Kyle Liggan, who graduated from St. Catherine's in 2013 and is now a third-year at the University of Virginia. "She was incredibly passionate about teaching and bettering opportunities for the girls at St. Catherine's. Especially in a field that is stereotypically male-dominated, she really strove to find a way to inspire excitement for science in students at St. Catherine's."
Trask's academic background in the natural sciences also sets her apart from the two previous heads of Upper School, Justice and Ross Peters, both of whom taught English. Trask holds a bachelor's degree with honors in biology and mathematics from Dalhousie University in her native Nova Scotia and credits science as her first love.
"In the beginning I loved teaching because I was in love with science," said Trask."It was wonderful to have a captive audience to share the intricacies of cell biology with or to ponder the communities of a tidal pool. I have had so many incredible classes over the years and absolutely loved being a part of their discovery and development as science students."
As Trask's career progressed, she also earned a bachelor of education in secondary science from St. Mary's University in Halifax and a master's degree in educational leadership from the University of Richmond. She has worked with the College Board on designing the national curriculum for AP biology.
Trask's former students at St. Catherine's remembered that her passion for science was evident every day.
"One of my clearest memories of Mrs. Trask was from freshman biology. We were learning about the activation of proteins and I asked a couple of questions during class," said Elizabeth Abrash, who graduated from St. Catherine's in 2013 and is now a junior at Kenyon College. "As I was leaving, she stopped me and said something along the lines of 'You seem very interested in biology. I could see you taking honors chemistry next year and then coming back for my AP biology class.' I'm studying molecular biology in college, and attribute that, in part, to Mrs. Trask. Without her encouragement, I'm not sure if I would have made the switch to science."
Other St. Catherine's alumnae remembered her compassion for students.
"At St. Catherine's, Mrs. Trask was one of everyone's favorite teachers," said Marshall Moore, who graduated from St. Catherine's in 2012 and is now a senior at Elon University. "She brought constant energy to all her classes and made every class uniquely fun. I distinctly remember her taking time to not only make sure that everyone understood the material but also to check in with each person asking about their recent sports games or something they had done over the weekend. She cared so much about her students."
Students at Trask's current school, Columbus School for Girls, say her excitement about school events eclipses everyone else's.
"Despite only being here for three years, she is more excited about school spirit than any of the teachers or students," said Katrina D'Arms, an eighth grader at Columbus School for Girls. "You would be hard pressed to find a school event where she is not in the audience. Whether it is a robotics competition, school musical, or sports game, she is always there, cheering on the students."
Trask's personal qualities and science experience were major reasons why Evans and the search committee ultimately chose her.
"When we found Mrs. Trask, she brought together a really distinguished academic record with incredible experience in teaching AP science and helping to create the AP curriculum nationally, with a lot of leadership experience," said Evans. "And when she was on campus, people thought she was just fantastic and a terrific communicator. All those things together made her  a natural choice for the position."
Next year, Trask hopes to integrate herself into the community.
"I have a deep respect for the history and traditions of Westminster and am anxious to get to know students and faculty and understand what the community values and cherishes," said Trask. "Relationships are very important to me, so I will want to be in classrooms, at school events,  and on the sidelines in order to connect with all aspects of school life."
Overall, both faculty and students are optimistic about Trask's tenure.
"We wanted someone who could build a very good sense of community where high school can be challenging yet fun, and not just for the students," said Persons. "Teachers want to get up and say, 'It's awesome to go to work in the morning,' and I feel that with Cindy Trask, that will be the case."