Students provide perspectives on mental health issues, stigmas, awareness
This semester, I had the incredible opportunity to investigate the ever-elusive concept of mental health. What started as an in-depth research project on schizophrenia for Dr. Moore's neuropsychology class expanded into a broader exploration of mental health on campus, reported in my article on pages 1 and 3.
Shortly after I started my research, I began to realize that mental health discussion was, if not omnipresent, the undercurrent of an astounding number of recent events: The discovery that talk therapy may be more beneficial than antipsychotic drugs in treating schizophrenia, published in the American Journal of Psychiatry. The realization that many mental health issues occur on a spectrum. Speculation that mental illness may be among the roots of recent mass shootings. Column after column in the New York Times representing personal perspectives on mental wellness and treatment of mental illnesses.
Mental health is a global issue, and raising awareness and promoting discussion both start here at school. At the same time that I tuned into daily reports, op-eds, and research findings on issues surrounding mental health, students and faculty began bringing organizations to campus and planning initiatives around these issues. I am absolutely blown away by the counseling team increasing student support, the leaders of Active Minds encouraging discussion, individual students having the courage to share their experiences in assemblies, the Proof cast and student director Tate Burwell depicting the harsh realities of living with mental illnesses, and Mr. Evans and Dr. Moore analyzing methods of student support the school has in place in order to bring about positive change on campus.
But equally important is you, the student body. The charts in this section were generated from an anonymous survey sent to the entire Upper School. The 225 students that responded encapsulated a spectrum of opinions and perspectives on mental health on a personal, schoolwide, national, and global level.
As the Bi-Line strives to report factually and accurately, the quotes chosen aim to represent all sides of the spectrum of opinions. If you would like to share your experience with mental health on campus, Dr. Moore would be ecstatic to hear from you, as she is currently gathering anecdotal data to help figure out how to best support students' mental wellness. In addition, the Bi-Line staff welcomes your opinions; feel free to send any one of us an email or submit a guest column.
We're on your side, and we value your perspectives. So let's use them to further change on campus.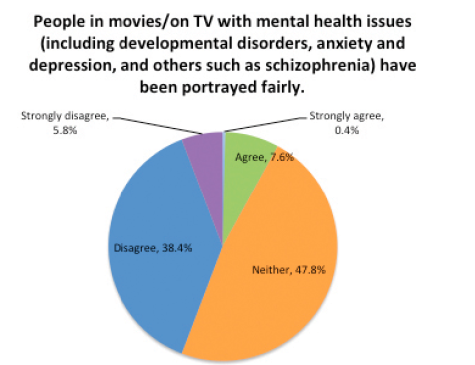 "I think in everyday life, there is a stigma surrounding mental illness. However, I think our generation sometimes romanticizes mental illness in media (movies, books, etc.). It's almost like it's 'cool' to be suffering from a mental illness."
"I think that the media casts people who suffer from schizophrenia and dissociative identity disorder in a very bad light; often crime shows portray murderers as having one of these disorders."
"So many people that have mental illness are portrayed as dangerous and psychotic. I feel that they are being portrayed unfairly and unjustly."
"[There is no stigma against mental health issues because] people with mental illnesses that I know are not teased or made fun of to my knowledge."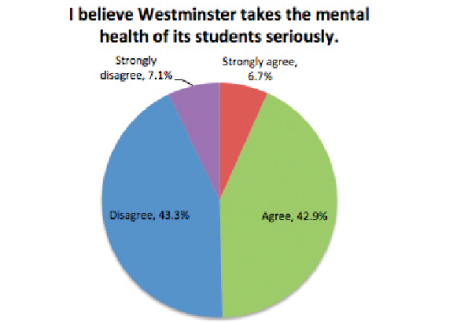 "Yes, there are counselors, but I just feel like mental health is Westminster's LAST priority."
"It is important to let people know that our campus is a supportive environment."
"People with mental illnesses are looked at as weak and whiny, while those suffering from physical injuries are 'champs.' This kind of stigma is unbelievably detrimental to the progression of helping kids with mental issues overcome their illnesses."
"Mental illness is as volatile as any chronic physical disorder, yet it is less visible, and looked on as a piece of myself that needs to be hidden away. While therapy can do wonders, I have been able to get through some of the most difficult times in my struggle with General Anxiety Disorder by contacting friends who have been there, and can understand."
"I believe there is a 'worldwide stigma' of sorts, but based on my experiences here at Westminster, I believe there is no stigma. The population of the Westminster Schools of Atlanta has proved to be understanding and supportive of people living with mental health concerns."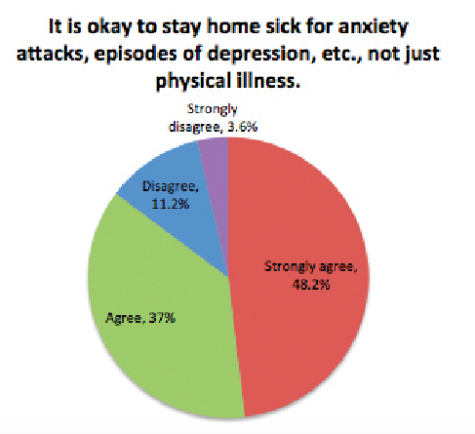 "It's easy for someone going through these challenges to feel alone and isolated, and having [Active Minds] provides a community."
"People talking about their specific mental illnesses excessively downplays the severity of [those illnesses]."
"I think it's all in your head. If people get sad and everyone around them tells them they're depressed and sends them to counselors, then that just makes everything worse. The person would need happy people around them telling them there truly is nothing wrong and eventually they'll start to believe it too."
"I definitely think programs [like Active Minds] should be established as if I had questions of issues regarding mental health, I would have no idea where to go and how to have the school help me."
"There are actual institutes for mental illness. The school does not need to meddle with those personal issues."
"A lot of people recently have admitted to having [mental health] issues, and I think having Westminster address these problems a lot more will help students who are facing those issues."
"People are ashamed to be depressed or struggling with mental illnesses, and that prevents them from getting help or talking to someone about it."