Meet and welcome Upper School head: Cindy Trask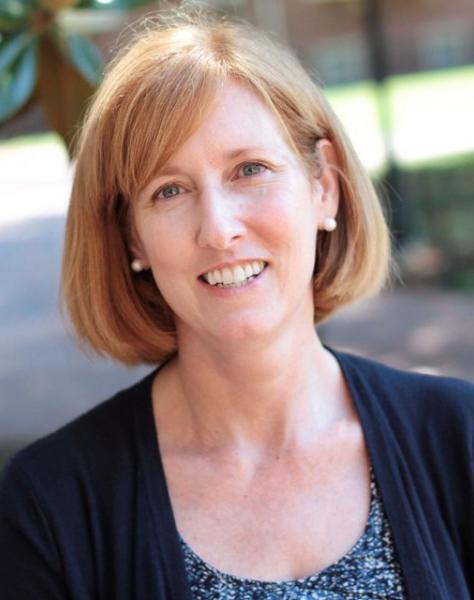 The 2016–2017 school year has brought in many new students and faculty, most notably the new head of Upper School Cindy Trask. Originally from Nova Scotia, Canada, Trask has worked at five different schools across the United States. Previously the director of studies and director of Middle School at the Columbus School for Girls in Ohio, Trask graduated from Dalhousie University in Canada with bachelor's degrees in biology and mathematics. In addition, she received her bachelor of education degree in secondary education and her master's degree in educational leadership from the University of Richmond.
The process of selecting Trask extended over months of deliberation among members of the community as well as with an outside search committee, Carney, Sandoe & Associates. Led by Devereaux McClatchey, Westminster class of 1988, and President Keith Evans, the advisory committee was composed of eight current and former faculty and administrative members across different academic disciplines and departments: Tim Downes, Dave Drake, Ralph Geeza, Marjorie Mitchell, Judy Osborne, Thad Persons, Chanley Small, and Jere Wells. The members of the search team reflected the diversity among the school faculty.
"We had many strong candidates to fill the position, even one alum," said former interim head of Upper School Jim Justice, "but the students and faculty who helped decide felt strongest toward Cindy Trask. Ultimately, Mr. Evans chose her as well."
Beginning her teaching career at St. Johnsbury Academy in Vermont in 1996, Trask taught as a biology and chemistry teacher and held the position of science department chair. From 2006 to2008, she taught at the Collegiate School in Richmond, Virginia, and, following from 2008 to 2013, she taught AP biology, honors biology, and chemistry at St. Catharine's School, also in Virginia. She served as the science department chair there as well before her time in office at the Columbus School for Girls. Her wide range of teaching experience and leadership made her stand out prominently among the candidates.
"Trask stood out for being student-centered and focused on being at Westminster for a longtime," said Justice.
Working with the administration and faculty, Trask has set new outlooks for the future of the school. With no intention ofc hanging what is already in place, Trask plans to work with what the school has already accomplished and build upon its potential.
"I am focused on getting to know the students and faculty first before making any adjustments around the campus," said Trask.
Although she has worked with several independent schools previously, Trask intends to stay with Westminster long-term because of the opportunities offered to students both inside and outside of the classroom.
"Westminster stood out the most to me because of the arts, sports, and the education offered here," said Trask.
Trask made her first debut at an assembly in late August, introducing herself with her favorite "cougar" t-shirt. Students immediately felt a close connection to Trask and her personable humor.
"Even though I don't know much about Mrs. Trask, her speech at the assembly made every one laugh," said junior Sarah Elizabeth Payne. "I am excited for her to be our new head of Upper School!"
Since her arrival, Trask has shown her deep interest in students as individuals and learners by interacting with classes and involving herself with the community.
"Mrs. Trask sat in during one of my classes, showing that she is truly interested in the students," said junior Carlyle Rollins. "That is the most important quality an administrator should have with students.
At the assembly, she also shared her transition from mascot to mascot, but told the Upper School how excited she is to be a Wildcat because of the environment and drive of students she has seen on campus thus far.
"Even though the academic curriculum is very challenging, the stress levels don't seem to be apparent around campus," said Trask. "Everyone knows how to handle themselves and their workload."
The transition of moving to Atlanta has been nothing but an adventure for Trask. She still continues her favorite nature activities as she adapts to her new home.
"I love the outdoors: biking, being on the water, kayaking, canoeing, sailing, and gardening are some of my favorite things to do," said Trask.
Trask also shared her mixed emotions about leaving Jeni's Ice Cream back in Ohio, but she soon realized Atlanta has not only a Jeni's shop, but also a variety of other delicious restaurants in the Westside Urban Market area. A fun fact about Trask and the ice-cream shop is that Jeni's daughter actually went to the Columbus School for Girls while Trask taught there.
"I have tried almost all the flavors in Jeni's Ice Cream," said Trask. "Chocolate is probably my favorite at the moment.
"Cindy Trask has felt nothing but welcomed and settled in her new position in the community as she has gotten to meet friendly new people on campus and around Atlanta.
"The students and faculty are so friendly," said Trask. "Many will stop by to say 'hi' or to introduce themselves. This makes my day."
As Trask's sixth and final school, Westminster stands out to her as the place where she plans to stay until the end of her teaching career, and where she will call home for a very long time.
"Everything has a vibe," said Trask, "and you will know the place you really love when you're there. For me, that is definitely Westminster."