Westminster debate duo leads as the number one team in the United States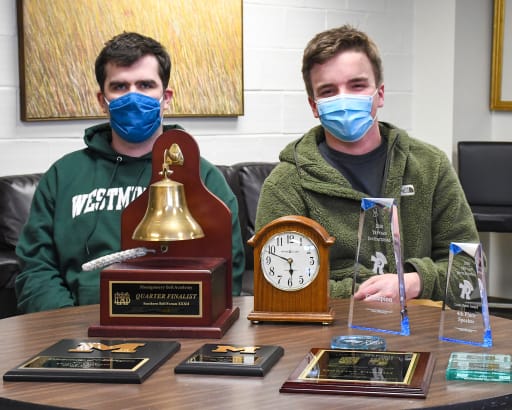 Recently, the Westminster debate team produced one of the best debate duos in the United States: senior Holland Bald and junior Ben Sayers. In Dec. 2020, the pair placed first in the National Debate Coaches Poll, selected by several of the most renowned debate coaches in the United States. Bald and Sayers also ranked fourth out of over 1400 debate pairings in the National Debate Coaches Association Bakers standings, with results based on an objective system. 
Reaching the level of success that Bald and Sayers have during this debate season is a testament to the experience that they have both gained throughout high school. In past years, Bald and Sayers both worked separately with older and more experienced Westminster debaters, such as Chris Rascoe, class of 2019. Their previous partners helped to provide a strong foundation for the skills they required to become two of the top debaters in the country.
"This [success] is something that is seasons in the making," said debate coach Matthew Munday. "What makes the Westminster debate team unique and special is the process in which knowledge gets built and passed down within these partnerships."
The rigorous daily expectations of Westminster debate have also contributed to Bald's and Sayers's immense success. The sheer amount of preparation and research that each debate requires in the weeks leading up to a tournament is staggering. With meetings only happening two to three times a week, Westminster debaters must carve out time outside of practice to scan thousands of documents, articles, and interviews to best craft their arguments for future tournaments. 
In the United States, one topic is released each season, and every team must alternate between arguing the affirmative or the negative of the issue for the entire season. This year's topic is criminal justice reform. Therefore, debaters like Bald and Sayers must work to diversify arguments for both sides throughout the year.
Westminster debaters learn critical thinking, listening, information-processing, and researching skills that enable their success. These skills separate them not only in debate tournaments but also in the classroom. 
"When you put debaters [like Sayers and Bald] who can listen, think, and respond to an opponent with great speed into an ordinary classroom, the class can feel like it is in slow motion for them," said head debate coach Jordana Sternberg.
Bald's and Sayers's impressive achievements have also resulted from their cohesion and teamwork as a pair, which they have worked on developing over the course of this year's season. During their tournaments, which typically last from Saturday to Monday, Bald and Sayers constantly converse back and forth on the direct messaging app SLAP. As they each take charge of their opposing sides on the year's topic, Bald and Sayers use their supporting research and insight to work quickly and efficiently to bolster each other's arguments.
Even though they joined the debate team on a whim in Middle School, both Bald and Sayers quickly developed a deep passion for debate. They discovered that their personalities and individual talents meshed well with the unique structure of the activity.
"The reason I was drawn to [debate] is because I have always been a logical person," said Bald. "What is conducive to success in debate is the structure of gathering information and coming up with your own ideas."
"I love debate because it is a different kind of activity," said Sayers. "It is fundamentally competitive, self-directed, and involves formulating your own arguments so that you can do whatever you would like with them."
Both Bald and Sayers look forward to possibly continuing their debating careers in college. Regardless of whether they continue to debate in the future, they both plan to hold on to the lessons that they have learned throughout their debating careers at Westminster.