Tennis aims for championships
Since practicing and training starting in mid-January, recent wins by the varsity boys and girls tennis teams are a favorable sign that the teams are ready for the challenge of a long and successful season. The teams began this season with decisive victories over Athens Academy on Feb. 15, with the boys winning 4-1 and the girls winning 5-0.
The teams have found inspiration in these early wins and have also left the coaches impressed with their players' talent.
"All three coaches are excited about this season, especially with the mix of freshmen and upperclassmen we have on the team," said varsity boys head coach Wade Boggs. "We enter every season thinking we will make a run at the state championship."
"I think we are going to be very competitive this year," said varsity girls head coach Scoot Dimon. "We have some great senior leadership, some great new young players in the ninth grade, and the motivation to win the state championship."
While optimism is an important philosophy, the coaches are prepared for bumps and bruises along the way.
"I enter every season with cautious optimism towards making a run at the state championship," said varsity boys assistant coach Ralph Geeza. "But you can never take anything for granted. Injuries can occur, young players can become overconfident, etc. So we have to keep working hard, stay hungry, and stay humble."
The coaches' sense of optimism appears to be justified. Both teams possess a solid combination of seasoned upperclassmen and talented freshmen. This promotes a crucial exchange of ideas and match strategies between the experienced returning players and the enthusiastic new members. After losing match-tested seniors at the end of last season, it has been important to integrate fresh talent into the ranks of both teams.
The boys team is composed of a diverse group of skilled players this season. The two veteran senior captains are Spain Short and Jimmy White. The team consists of juniors Will Anderson, Sam Beadles, Garrett Donnelly, Aaron Smith, and Stephen Solms, sophomore Connor Hutchins, and freshmen Josh Doman, Mac Griffith, Al Hill, Venkat Tummala, and Chethan Yadav.
The girls team is equally endowed with a talented lineup. The four experienced senior captains are Rachel Corbin, Katelyn Jones, Emily Lovern, and Marilyn Miller. Players are juniors Kay Crawford, Julie Fowler, Madeline Hill, Alex Marshall, and Paige Sullivan, sophomores Susie Fields, Simrun Mithwani, and Priya Sinha, and freshmen Gabi Barros and Madison Hutchins. Both teams prepare and compete under the watchful eyes of dedicated coaches, with Boggs, Geeza, and Kevin Mylod for the boys and Dimon, his son Ricky Dimon, and Jennifer Timmis for the girls.
All of the boys' and girls' upcoming matches are scheduled to occur on the same days, with most being played at the same location. Our school's abundance of tennis courts enables Westminster to host the majority of the matches, so the teams will be looking for crowds of roaring Wildcats to show up and give their much-appreciated support.
"We're limited to 17 matches prior to entering the region and state tournaments," said Geeza. "Most will be played on our front courts, so we always look forward to great fan support."
Sportsmanship, teamwork, and cooperation are all important lessons learned on the varsity tennis teams. Each match is not only viewed as a chance to beat opponents but as a time for the players to sharpen their game and grow together as a team. Each individual player has many personal goals they wish to accomplish during the season, but all share one overarching goal: to bring another state championship trophy home to the showcase in Turner Gym.
"So far, the team seems to be bonding well. Juniors and seniors are welcoming the freshmen, who are pushing everyone on the team, which can be healthy," said Boggs. "By the end of the season, we will be a true team, hopefully competing for the state championship."
"I have high hopes for the Wildcats this season," said Dimon. "We have a great combination of youth and experience, and we have strong singles and doubles."
With positive support and tactical insight from the coaches, the players are motivated to perform their best no matter how formidable the opposition may be. Hopes are running high, and both teams plan on bringing glory to their school by winning both the regional and state championships.
"Yeah, definitely, I expect that our team will be very good this season," said White. "We go to Mellow Mushroom after most matches if you want to join our victory party."
Younger players look to the captains for leadership and success.
"I have no doubt that our senior captains will do a great job of leading us to the state championship this year," said freshman Madison Hutchins. "Both the boys and girls are very strong teams, so if you want to see some Tennis Cat domination you should come cheer us on.
The conquest for varsity tennis state championships has begun, and the season looks promising for both the boys and the girls.
About the Contributor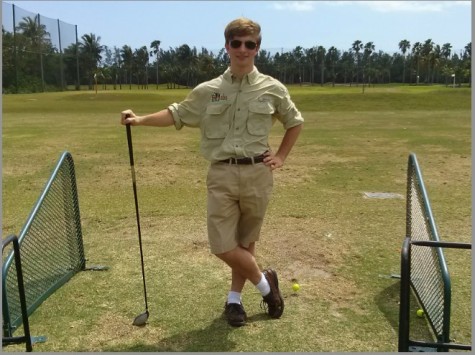 Connor Hutchins, Sports Editor
My name is Connor Hutchins and I am a sports section editor on the Bi-Line. At school, I am also a member of the varsity boys' tennis team, a Discipline...