Westminster alum Harrison Butker reflects on kicking career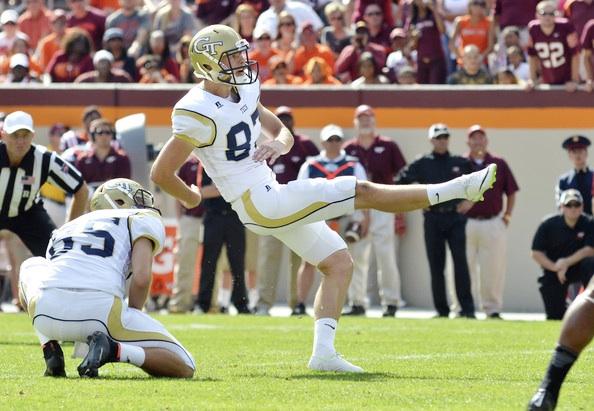 The name "Harrison Butker" is well known in the Westminster community, and not without good reason. Butker graduated from Westminster in the class of 2013 and went to college at Georgia Tech, where he is currently a sophomore. Butker started playing on the Westminster football team when he was a sophomore in high school as the kicker and punter, and now serves both roles on the Georgia Tech team.
"I didn't start playing football until my sophomore year at Westminster," said Butker. "Jeff Oser was the starting kicker at the time and happened to play tuba with me in the band. One day he asked if I had any interest in kicking for the football team and, if so, I should go talk to Coach Sturno about it. After a couple days of pondering I finally decided to give it a shot and 'tried out' for the team during the second week of spring practice. They let me join and I couldn't be happier that I did."
When Butker first began playing, he was unaware of how football would affect his life. He was not a fan of college or professional football at the time. However, his experience as a part of the Westminster FAMILY quickly changed that.
"When I first started playing, I didn't even really watch football to be honest. I wasn't a big football guy so I didn't really understand how big Division I College Football was," said Butker. "After my junior year I started realizing that I might have a shot at playing at the next level, and Coach Wild did an awesome job at helping me reach that goal."
While many people do not recognize the true importance of the kicker and the punter in modern football, these positions are extremely important to the squad as a whole and the kickers often play a decisive role in the outcome of the game. Butker recognizes that there are many aspects needed to be a successful kicker, and that one of these is constanttof repetition.
"From a kicking standpoint, I love how technical and calculated it is," said Butker. "Every repetition that I take in practice is hopefully a step closer towards being able to repeat that motion through muscle memory. You have to be a robot and can't let any distractions affect you. I really enjoy this mental part of kicking and how I have to completely zone everything out and just focus on the task at hand."
Fans of the game love to watch and play football for different reasons. At Westminster, fans and players love the team because of the Westminster football FAMILY environment. Play on the team brings the athletes close together,, making Westminster football a unique and amazing experience.
"The football FAMILY at Westminster was extremely close and played a big part in me wanting to join the team," said Butker. "It truly was a FAMILY and played a huge part in my Westminster experience. Coming from this close background, I really wanted to find a college football program that replicated the Westminster football team. I loved the coaches at Georgia Tech and the team atmosphere felt really close-knit. These past two years have been really fun and I think that true 'team' closeness contributed a lot to our success this year."
The success that Butker is referring to came in the form of a great season for the Yellow Jackets this year in which Harrison played a major role. The Tech football team went 11-3 and beat the Georgia Bulldogs thanks to a game-ending field goal from Butker. He believes that Westminster truly helped him prepare for playing football in college and that the things he learned at Westminster have gave him the tools he needed to have such a great season.
 "Balancing school with football is very hard at Westminster, and those skills that I learned in high school have carried over to the college level," said Butker. "The college football season lasts much longer now and the school is even harder, so it was essential that I developed good time management skills while at Westminster."
While Butker has been doing very well on the Georgia Tech team, he still aspires to improve his kicking with an  aim to play in the NFL. However, he is not putting all of his hopes into a pro career, and is working hard for his degree at Tech as a backup plan.
"I personally haven't been satisfied with my past two years kicking but I feel like I'm improving every year and I've been doing everything I can to get better and better," said Butker. "If I don't make the NFL, I'm not going to have any regrets but that is my number one goal in the foreseeable future. On another note, a big reason why I came to Tech was to have a plan B in case I didn't make the NFL. I'm majoring in Industrial Engineering and I feel like if the NFL doesn't work out, I'll enjoy wherever my degree takes me."
For Butker, football has changed his life in ways he could never have imagined when he first started playing. He believes that everyone can get better at what they do. This idea has helped him to keep practicing so that he can continue to amaze and help those around him. According to Butker, if you want to continue to play your sport later in life, the most important thing is to keep practicing and never get overconfident.
"My advice would be to stay patient in terms of getting attention from colleges and pros, and don't ever think you're good enough," said Butker. "You can always get better and learn more about your skills."