Seniors Commit to Play College Athletics
        Twelve athletes of Westminster's class of 2016 have committed to NCAA Division I programs throughout the country and many more are still weighing their options or are in the midst of negotiations. For this year's class, the early commits come from football, baseball, volleyball, men's tennis, and both men's and women's lacrosse.
        The Wildcat football team features twins Blake and Tyler Gillikin.  The Gillikin brothers have both been competing on the varsity team since sophomore year.  Tyler, a long snapper, will be playing for the Northwestern Wildcats under Head Coach Pat Fitzgerald.  The Gillikins will be going on different paths as Blake decided in late July to play for the Penn State Nittany Lions over the hometown favorite Georgia Bulldogs.  Although many people questioned Blake's decision to commit to Penn State over the University of Georgia and the opportunity to compete in the SEC football powerhouse, Blake had many reasons for doing so.
        "I chose Penn State because it has the perfect combination of football tradition and solid academics I was looking for," said Blake Gillikin. "Also, a major factor in my decision was the campus and dynamic of the coaching staff.  Penn State is the epitome of a college town, which is exactly what I wanted.  Additionally, the coaching staff is young in comparison to other major programs, thus making it easier to relate and communicate with them.  It was the place I could legitimately see myself for the next four years."
        The very talented Wildcat baseball team currently hails three Division 1 commits in seniors: Will Benson, Rankin Woley, and Armaan Painter.  Will plans to attend Duke University next year where he will be playing in the ACC for Head Coach Chris Pollard and the Blue Devils.  Both Painter and Woley will take their talents to the SEC where Armaan will be playing for the University of Missouri Tigers and Rankin will be playing for the Louisiana State University Tigers.
        "Committing to Mizzou has been an absolute dream come true." Painter said, "Ever since I was a little kid, I've wanted to play college baseball, and more specifically SEC baseball. I've put so much time and effort into my dream and at times it's cost me in terms of social life and even my academic life. I remember so many Friday nights, being in a batting cage or a gym instead of being at a party or with my friends. I'm a big believer that God has a plan for everyone and that fact kept me from stressing or becoming overwhelmed."
        The men's tennis team features one lone commit in senior standout Al Hill who will be playing for Head Coach Silviu Tanasoiu at Cornell University next year.  For Hill, being able to play for Cornell is a culmination of his many years in training and a great way to end his career at Westminster.
        "I chose Cornell because it is an unbelievable team with a great group of guys," said Hill.   "The most important things to me were being part of a team that I really enjoyed and felt like I could grow with, and having the opportunity to be in the elite in both tennis and academics.  I was looking at BC, Brown, Pomona, and Cornell."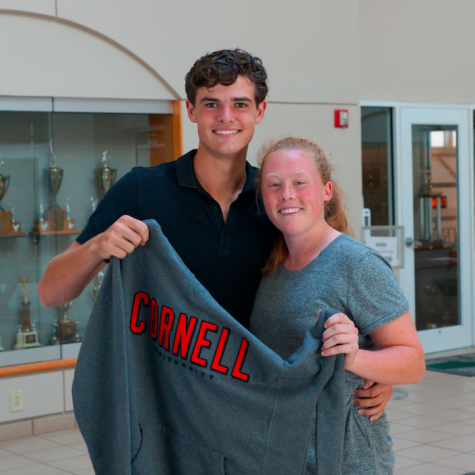 The women's lacrosse team has two commits in senior goalie Katie McGahan and senior attacker Cabbell Zakas.  Next year, Katie will join fellow Wildcat Al Hill at Cornell University while Cabbell will be playing for the Furman Paladins.  Both Katie and Cabell have led the Lady Laxcats for several years and it's no surprise to anyone that both will continue their athletic careers in college.
        The reigning state champion Westminster men's lacrosse team includes three Division 1 commits from this year's class: Attackman Logan Devereaux, Midfielder John Farley and Defenseman Raines Shamburger.  All three have played for Head Coach Tony Souza's varsity team since their freshman year.  Devereaux and Farley will both compete in the Patriot League.  Devereaux will play for the Loyola College Greyhounds under Head Coach Charley Toomey, and Farley will play for the College of the Holy Cross Crusaders under Head Coach Judd Lattimore.  All American defenseman Shamburger will be competing in the ACC for Head Coach John Danowski and the Duke University Blue Devils.
        Although Shamburger received offers from Denver, Brown, and Princeton, he chose to play lacrosse at Duke because of its strong athletic and academic programs.
        "The balance of academics and athletics is the main reason I chose Duke." Shamburger said, "All of the other options available to me were either very strong athletically or academically. Duke replaced 'either or' with 'and,' and presented me with an opportunity to play top tier lacrosse while also getting a great education."
         The lone volleyball commit is four-year varsity player and senior captain, Caroline Welsh, who will be playing for the Fighting Illini of the University of Illinois next year.
         "I always knew I wanted to play volleyball in college, and specifically in the Big Ten conference," said Welsh, "Big Ten volleyball is unlike any other conference. Illinois has one of the strongest and best fan bases in the country for volleyball which makes playing at home electrifying for the players and fans. When I visited Illinois for the first time, I fell in love with the campus, coaches, and overall culture. It offered the best combination of volleyball and academics which ultimately sealed the deal for me."
         Although these athletes have looking into the future, they will always remember Westminster, where they honed their athletic abilities with coaches, teammates, and friends.
         "Going to Westminster, I wasn't sure what to expect athletically but it has exceeded my expectations, especially playing lacrosse there," said Devereaux.