Junior Kate Quigley commits to play Division I lacrosse at Columbia University
Kate Quigley's commitment occurred only eleven days after her first contact with Columbia. The National College Athletic Association (NCAA) only allows Division 1 programs to contact prospective players after the September of their junior year starts. Unsurprisingly, Columbia contacted Quigley at midnight on September 1, and shortly after, Quigley took an unofficial visit to Columbia. This allowed her to witness the facilities, see team practices, and go to a school class before head coach Anne Murray officially made her an offer. Not only was Quigley Columbia's first recruit from the class of 2024 for women's lacrosse, she was also their first prospect from the class of 2024 to visit their campus. 
Quigley started playing lacrosse in first grade, originally playing on teams coached by her parents, while she still lived in the northeast. Along with her school teams, Quigley joined the EagleStix organization in the fifth grade and has played with them ever since. As a middle schooler, Quigley started playing for Walton when she moved to Georgia, which was her district's high school. When she enrolled at Westminster, she immediately became an impact player on the varsity lacrosse team. After playing for many years, Quigley's passion for lacrosse only continued to develop, ultimately leading her to decide to play lacrosse in college.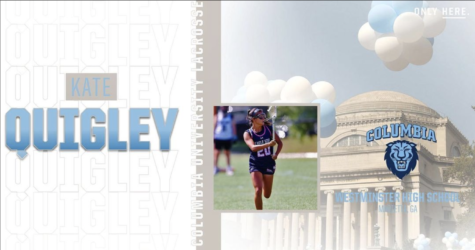 "I realized I wanted to play at an Ivy because it had the balance of stellar academics and competitive athletics that I was looking for," said Kate. "The Ivy League is a strong league for lacrosse as well, and Columbia, which has been watching me since the fall of 2021, has been my dream school for a couple of years now." 
As a freshman, Quigley made an immediate impact on Westminster's varsity lacrosse team. She not only started but also led the team in goals, a feat she has accomplished every year since then. 
"Kate definitely knows how to improve everyone else on the field, " said sophomore Cate Collier.  "She understands shooting and passing lanes really well, which makes her an amazing player. On top of that, she is a really inclusive teammate, both on and off the field, as well as just being an easy-going person." 
Recently, Quigley was selected as an All-State player as a sophomore, which is extremely difficult, considering the fact that All-State players can be chosen from all the regions in the state, not only Westminster's region. The same year, she was selected as the Area Player of the Year for the Triple-A region. Both accolades are astonishing accomplishments for any player, let alone a sophomore.
Quigley has not only been beneficial to Westminster's lacrosse team on the field but also to the program as a whole, both in the locker room and practice setting. 
"She's definitely a leader on the team, both skills-wise and in her personality," said senior Carter Frieden. "She really pushes everybody to work harder and practice every day, and she's one of the most driven people on the team. I would say that, after watching her play on the team for a couple of years now, I've really seen her leadership grow and she's such a great leader for the whole team." 
Her teammates are not the only ones to sing her praises, as her coaches were eager to explain the impact she's had on the varsity program as a whole.
"More so than all of her accolades, there are so many things that she does besides dominating on the field that makes her a great person to have in the program," said head varsity girls lacrosse coach Katie Trainor. "It's the fact that she wants to do well as a team, finds ways to incorporate her teammates into the game, finds ways to be a good teammate, and really cares about the team that makes her such a good player, not only her technical skill level."
Quigley remains humble despite her success, and her accomplishments haven't changed how she interacts with or views her teammates. 
"Because of her talent level, a lot of her peers look up to her as she is one of our most talented players, but you wouldn't necessarily know that by her personality," says Trainor. "To be honest, that impresses me the most. She works hard, she pushes herself and her teammates to be the best players on the field, and acts like she's just any other player." 
Quigley has expressed her gratitude to the Westminster community, her coaches, and her teammates for supporting her throughout her commitment. She has relied on her Westminster coaches to help her in her commitment journey and has worked with them outside of lacrosse season to continually improve herself.
"I'm just really grateful for such amazing coaches like coach Trainor and coach [Brooks] Batchellor," said Quigley. "Coach Batchellor would meet with me every week to work on skills that I needed to improve on. On top of that, he was always there to help me and challenge me throughout the season."
Quigley's commitment to Columbia is a bigger milestone than it might appear to be. Lacrosse is typically a northeastern sport, meaning that most of the players and prospects will come from the northeast. Quigley had to stand out even more as fewer scouts are paying attention to areas in the south like Georgia. 
Quigley has dedicated a substantial amount of time to working toward her dream of playing lacrosse at an Ivy League school, especially during the last summer. 
"I spent all but a few days up north this past summer doing camps, visiting college campuses, and playing in games with my club team where I would be seen by schools," said Quigley. "I met many new friends and coaches that I am grateful to have met, and looking back on my summer, I am satisfied with the work I put in and how it has allowed my goals to come to fruition."
Quigley will play at Westminster for her remaining years of high school before continuing to play lacrosse at Columbia University. Quigley is backed by a supportive network of coaches, teammates, peers, and teachers, all of whom look forward to seeing what she will accomplish next.
Edited by James Rhee