Sarda faces quick-witted competitors in Teen Jeopardy
Students, teachers, and parents held their breath along with 25 million other viewers as they watched freshman Nilai Sarda compete in round after round of Teen Jeopardy. Thirteen-year-old Sarda, the youngest of the fifteen contestants, impressed the nation by finishing in third place against his older competitors.
Sarda, an Academic Quiz Team member, had only weeks to study before flying to Universal Studios in California to film ten shows during a four-day span over Thanksgiving break. Of the ten shows filmed, he appeared in four.
Although he wishes he could have won the tournament, Sarda is proud that he made it into the finals of the tournament. His $26,400 winnings will go into a college fund.
"I wish I had done better," he said, "but I can't complain. Just getting to the finals was an accomplishment for me."
Fellow classmates are also proud of Sarda, who is one of the youngest members of the high school.
"It was really exciting to be able to turn on the TV and say, 'Hey, I know that kid!'" said freshman Kensey Cochran. "The whole grade got really into it, and everyone was incredibly supportive of Nilai."
Sarda first got involved with Jeopardy two years ago when he tried out for Kids' Week. Now old enough for Teen Jeopardy, he took the online trial test in the early fall, which acknowledged only the top students. The best scorers advanced to an audition in Chicago where the top fifteen contestants were chosen after another 50-question test and a mock round of the show that assessed buzzer skills and poise.
"I decided that I would try out for the teen tournament when I saw an announcement to take the online test," said Sarda, "because why not?"
After being chosen for the actual show, the fifteen teens flew to California to film. Ten shows were filmed over a two-day period, and workdays spanned from 10 am to 5 pm. Contenders were not allowed to leave the green room during the day so that they could not gain an unfair advantage by figuring out the 'wild card' question.
"Everybody there was really nice," he said. "When you actually go on stage, that's when the competitiveness starts. Backstage in the green room it's pretty cool. Everybody is just hanging out and having a good time."
After a practice round to acquaint themselves with the buzzers, podiums, and rules of the game, participants had no chances for second takes. Each show was filmed in 30 minutes and only in the rare case of a mistake from Alex Trebek (the host of Jeopardy since 1984) would they rerecord the audio. Even under the pressure of a live audience, Sarda kept his cool.
"When you are actually playing the game," he said, "you're not focused on what other people will think when they see you. You're focused on actually getting the question right."
Not only was the 13-year-old freshman not phased by the cameras, but he was also not at all bothered by being the youngest one.
"It was kind of like hanging out at school," said Sarda. "You are going to meet people older than you, just like you might have sophomores and juniors in your classes. We all got here, so we all have an equal ability to play this game."
Sarda came in third after co-competitor Leonard Cooper from Little Rock, AR, doubled his score with the 'daily double,' then won the game with the sassy answer, "Who is some guy from Normandy, but I just won $75,000." The 2:50 minute long video of the final two questions now has almost six million views on YouTube.
Even after the heartbreaking loss, freshman compatriots are supportive of Sarda and his performance on Jeopardy.
"The entire freshman class is so proud of Nilai," said freshman Billy McGahan. "He dominated in Jeopardy and we got to watch him. It was awesome."
It is not only the underclassmen that are proud that a Westminster student advanced so far.
"He's very talented especially for being so young," said senior Robert Wilkins, "and he's on AQT as well. He's one of our best players, so he's only going to get better as he gets older and if he goes back [to Jeopardy] I'm sure he'll win."
Despite the announcements and shout-outs to Sarda, some students and teachers still did not know that one of their own was competing on Teen Jeopardy.  Others were simply a little skeptical.
"I find trivia a little boring, to be honest," said AP computer science teacher Eliot Kaplan. "I think that there are more useful ways to spend your brain space, especially if you have a lot of it, than memorizing facts that can be looked up on Wikipedia."
In the end, Sarda does not care about what others know or think about his performance. He is just happy to have had the opportunity.
"I was just trying to do my best," he said. "I wasn't worried about what would actually happen afterwards of even during the game. I was just trying to answer the question. It was a great experience."
About the Contributor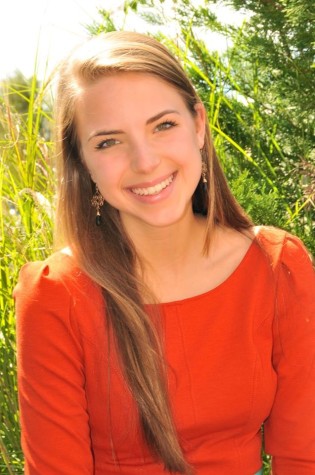 Hannah Gay, Head Editor
Hannah has been with the Bi-Line since freshman year as a writer and a news section editor. She plays Varsity and club soccer with Concorde Fire, and does...