Letter from the Editors – October 2022
Dearest Readers,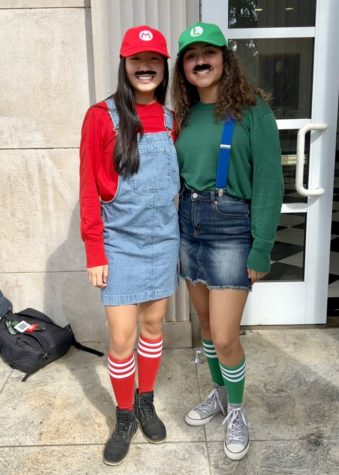 We hope you all enjoyed the first issue, and we're sure this one won't disappoint either! 
Since our last issue, we've celebrated Halloween, enjoyed some cooler weather, and some of us even voted for the first time. 
Your Head Editors certainly had fun dressing up as Mario and Luigi on Halloween this year (cue the Super Mario Bros theme song). Shoutout to Amazon for the fantastic mustaches!
As the year intensifies, we hope the Bi-Line will provide you all with some refreshing amusement during these trying times, since it is the greatest publication on Westminster's campus. With exams coming up around the corner, don't procrastinate like Melanie, sleep a lot like Aanya, and keep being the amazing champions that you all are!
From the Bi-Line family to yours, we would like to wish you all a happy early Thanksgiving! 
With admiration,
Aanya and Melanie aka Luigi and Mario
P.S. If you have any questions or want to write an opinion piece as a guest columnist, please contact us at [email protected] and [email protected].