Spotlight on athletics coach and physics teacher Adam Pullen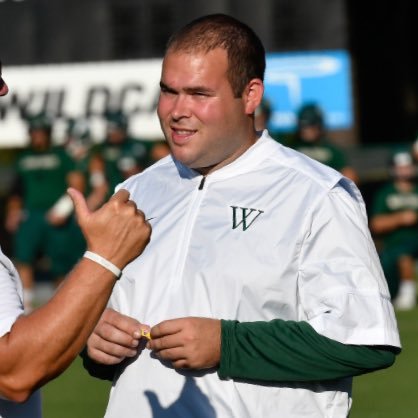 In a community filled with intelligent, caring, and charismatic staff and students, it is often hard to stand out at Westminster. Despite this, physics teacher, football coach, and baseball coach Adam Pullen has managed to make a huge impact on the Wildcat community in his first few years here.
Since arriving at Westminster in 2016, Pullen has already formed connections with plenty of students. Between teaching and coaching, Pullen spends a lot of time on campus and it is obvious to all who meet him that he loves his job and being with students.
"I really love working with young adults and the type of relationships I form with them," said Pullen. "I just try to be a positive influence and I hope that I am doing so."
In his fifth year at Westminster, Pullen already has been recognized for his personable attitude and intellectual achievements on multiple occasions.
"I was awarded the PhysTech Southeast Teacher of the Year in 2018, the Westminster Rollins teaching award, and was honored by the Class of 2020 with a yearbook dedication," said Pullen.
Both the Rollins award and the yearbook dedication highlight his impact on the Westminster community, but Pullen's PhysTech Southeast Teacher of the Year award reflects his excellence in the classroom among thousands of qualified physics teachers throughout the United States. However, to Pullen, the bonds he forms with his students are even more important. 
"I think that the students [at Westminster] are very multitalented and are involved in a lot of things, and because of that, I feel some kind of symbiotic parallel with them," said Pullen. "I just try to provide these busy students with some fun."
Pullen teaches ninth grade physics as well as the challenging AP Physics 2 course offered to seniors. Earlier this month, students from his AP Physics 2 class enjoyed the nice weather and played a game of football in the new stadium – another example of the excellent balance Pullen strikes between work and fun. Students and athletes that have been lucky enough to get close with Pullen have really appreciated his dedication to helping them succeed.
"One of the best things about Coach Pullen is his willingness to spend extra time with his players and his students both on the field and in the classroom," said senior baseball catcher and AP Physics 2 student Ben Montag. "Whether that be staying after practice for extra work or staying through office hours every day, I think he's willing and eager to offer additional help to those who need it."
Pullen's impact on the young minds of students goes far beyond just their high school years. Pullen teaches lessons on the diamond and in the classroom that, for some students, will endure long after they graduate.
"One thing I'll always remember that Coach Pullen told us in physics class is that "you never rise to the occasion," meaning that no one actually plays better in a game or does better on a test. He taught us that those who succeed are the ones who maintain their levels from practice into the competition," said Montag.
Many students credit Pullen for their success in and out of the classroom. 
"I think Coach Pullen brings a lot to the table, but I have enjoyed just having a coach that knows the importance of academics, and then a teacher that loves athletics," said senior football punter Connor Weselman. "I can always go to him to ask for help, and since I have him as a teacher and a coach, he helps me to be my best in both."
Students enjoy Pullen's conversational approach to teaching physics, as opposed to the more traditional style of constant lecturing. Beyond his engaging teaching style, Pullen's desire to help students is clear, as he often goes above and beyond what is expected of him in his role as a physics teacher. 
"I went into office hours one time and he was helping a couple of people with problems for a different class," said Weselman. "He is always willing to help even if it isn't for his own class."
Pullen is a teacher and coach that everyone will remember. He provides balance on campus and pushes students to be their best selves, due to his genuine desire to help others. Pullen's various job titles on campus have made him better at both teaching and coaching, as he excels in both.
 "I think the fact that he is a teacher makes his coaching style much different than other coaches, and I think his teaching style is also different as a result of this unique situation," said Montag. "It feels like he genuinely cares about the people with whom he's working." 
Coach Pullen is a very intelligent and caring person who is an excellent addition to the campus community. Whether it's coaching or teaching, he is skilled in creating a strong community, and he embodies everything that Westminster strives to be.