Westminster win at Esports championships
Westminster senior and esports team leader Cody Wang wipes a bead of sweat from his brow as he moves his controller to make the kill. He delivers the final blow, and the crowd erupts into applause. He has just won the Smash Bros state title for the Westminster esports team. 
Esports is redefining what people consider to be a sport. The Olympic committee has talked about adding an esports section to the Olympics, and it has since been gaining traction. For reference, in 2020, there were 50 GHSA-sanctioned teams, and in 2021, there were 190 teams. Now, there are over 200 teams competing. To some, playing video games is just a hobby and a simple way of deriving pleasure from entertainment. Esports, however, combines strategy, dexterity, and quick thinking to turn video games into an elite competition.
To put it simply, esports are competitive video games. These can range anywhere from team battles to individual first-person shooters. Today, professional players can earn up to $30 million for winning elite competitions, with some competitions reaching millions of spectators. 
Esports originated in the late 1970s when the first gaming consoles were created, but the Westminster esports team is in its infancy, being only four years old. While the team was only composed of three members at its beginning, the team has since grown and has just won its second state title. 
According to senior Lawrence Marks, the level of commitment it takes to win is significant. 
"You have to practice for at least an hour everyday or you'll lose your skills," said Marks "I've probably played over 3,000 hours in the past three years, sometimes spending hours at a time at the computer." 
That's not all; training requires hours of rewatching taped games to find ways to improve your skills. Players have to watch both their own and their competitors' matches to see where to improve. Although lessons are not cheap, players can use the resource Metafy to pay professional gamers to give gaming advice. Wang acts as the team's coach, providing his teammates advice and coordinating practice matches. He helped fellow team member sophomore William Earnest transform from someone who had never touched a controller and had a losing record to being the only undefeated player on his team. 
Wang got into gaming as a sophomore when "something clicked," and he has loved it ever since.
"I have a very addictive personality. Whenever I do something, I commit to it," said Wang.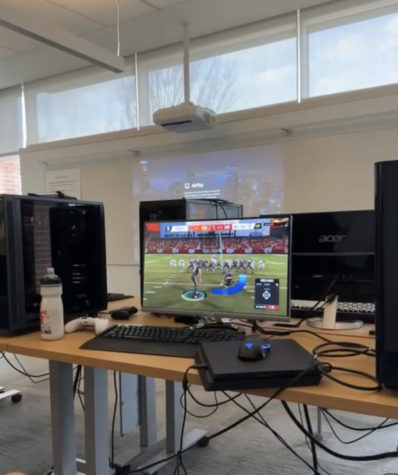 He wanted to get into the more competitive side of gaming, so he recruited Marks and former team member Luca Fleury '22 to start the team. The team initially had a losing streak, but members recruited professional gamers to help them and competed in many practice tournaments. Soon after, they were winning tournaments and won state by the end of the first year.
The team now consists of Wang, Marks, and Earnest as the A team and seniors Fletcher Fogle and Harry Stone and junior Levi Quintero as the B team. The team had some rocky points at the beginning of the season, finding it hard to stay consistent with gaming.
"We went into the season hopefully confident," said Wang. "We knew our chances were pretty good, but we had some stiff competition so didn't take our foot off the gas." 
Their biggest rival this year was Landmark, the players being people that the Cats regularly practice with down at the 4o4, an Esports practice center. The immense amount of practice and fine-tuning their skills is what ultimately led to the victory for the Cats. There are state championships for every game, and the Cats took home the state title for Super Smash Bros. With the increase in teams this year, the state was split into A-4A, and 5-7A, demonstrating the sport's rapid climb in popularity. Nowadays, scholarships are given for being good at the game, with Marks having received some offers. 
"It's what I do in my off time, and the fact that it's a video game that we play, and we can get some recognition for it is really cool," said Marks. 
Wang also had some thoughts on the subject and on the state win.
"I enjoy playing it, I enjoy improving, and I enjoy competition," said Wang. "State finals was a clean sweep. It was a good outcome, and I think we deserve it." 
The Cats finished their 2023 season strong, but they don't get a break yet as nationals are this summer.
Edited by Kelley Lu